In my cozy printing workshop I enable you to learn the ancient craft of etching.
Etching is an old intaglio printing process from the 16th century. Unlike linoleum or woodcut, here we print the lines that are in depth. So we can print hair fine lines and go into detail.
I have learned this ancient technique four years in a study and now live since 2009 as a freelance artist with and for this technique.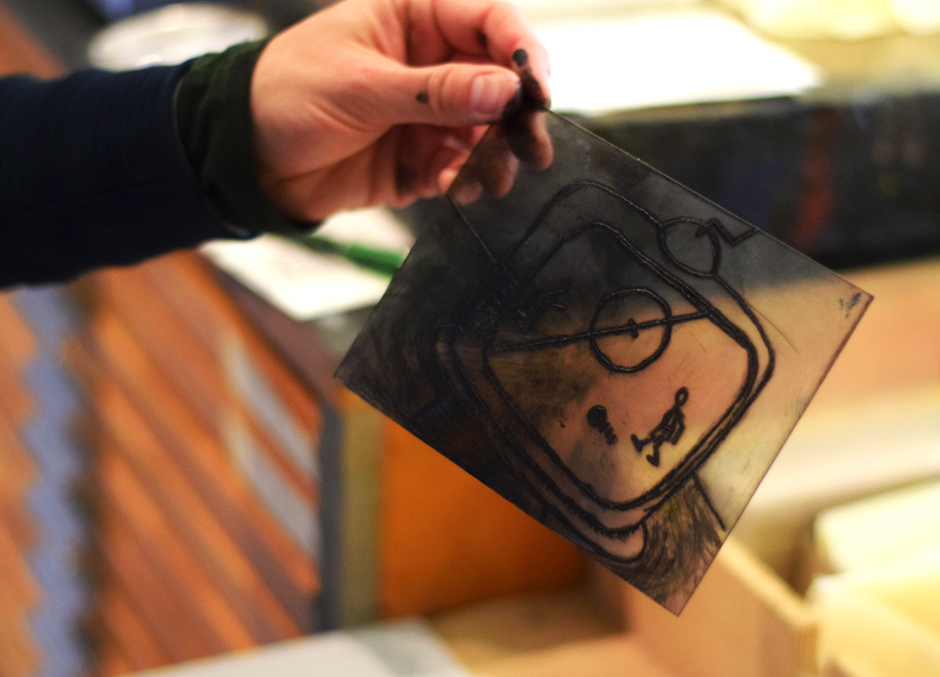 The courses in my print workshop are intensive courses.
You can book these individually with me.
Whether you are a beginner or already have experience. I am guided by you and your project.
The format of the printing plate is also freely selectable in this course.
You should go home with your own work of art.
The intensive course lasts 5 hours and costs 240.00 €.
Each additional person costs 160.00 €.
There is room for up to 3 people in this course.
In addition, the consumed materials, which are around the 15.00 €.
If you are interested in such a course, please contact us by e-mail.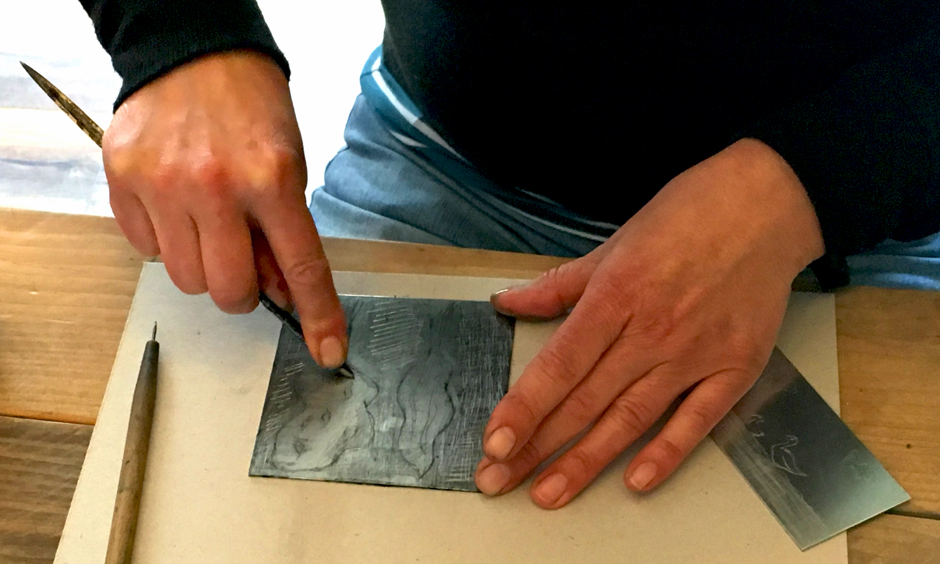 Printing as an event!
You want to celebrate a birthday and print your own drypint with your guests?
You are a team and want to create something beautiful and sustainable together?
I will be happy to customize my classes for you.
Please note in larger groups we are bound to a plate size of 10x15 cm.
I charge 80,00 € per hour.
If the print party take place at my print workshop, I need 2 hours for preparations and cleanup.
Added to this is the length of your course that you would like to book with me.
The material costs will be calculated at the end of the course.
From experience these are between 5,00 € and 15,00 € per person.
If the print party take place outside, I need 2.5 hours for the preparations.
Furthermore, I charge the current flat rate per kilometer, which is currently 0.30 € per kilometer.
Also added here is the desired length of your course and the cost of materials, which will be calculated at the end of the course.
You have your own questions and ideas about etching?
Whether you have found an old printing plate that I should print for you, or you have a specific project that you want to implement.
Also in this case, I am with my printing workshop, individually for you there. With support, advice and action I am at your side.
Each hour costs 65.00 €.
If you want to work independently in my print workshop, each hour costs 55.00 €.
If desired, I have working materials there.